Front opening bin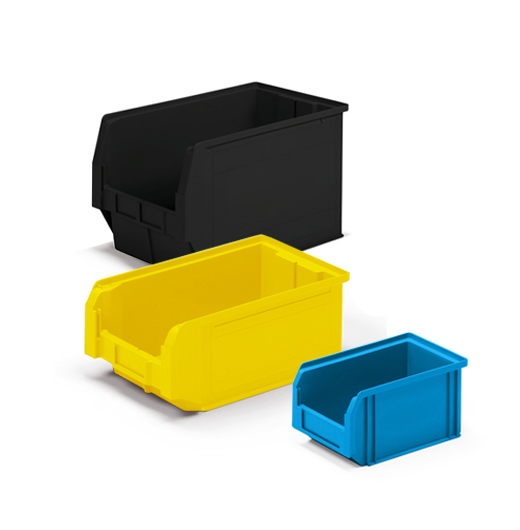 Front opening bin for small parts
The front opening bin Compat series is the ideal solution to any storage problems in the warehouse, workshop or on assembly lines. They allow you to have the contents always at hand and in full view, making them easily extractable. These boxex can be stacked stably and safely and the material is just as easily accessible even when they are one on top of the other. The largest containers are equipped with a frontal crossbar that helps prevent any deformation of the side walls due to large loads and to facilitate grip.
STACKING STORAGE BINS PLASTIC PARTS BINS
COMPAT open front containers are ideal for hardwares, workshops and warehouses to collect small parts. The open oblique front side of the container makes the components inside easily accessible. A COMPAT hopper front container is characterized by double front walls that ensure maximum stability even when stacking. Hopper front boxes are also available in conductive polypropylene for use in the electronics industry.
THREE KIND OF BOTTOM
SMOOTH BOTTOM
RIBBED BOTTOM
45° RIBBED BOTTOM
Wide range of accessories for the COMPAT hopper front bins
Containers can be divided lengthwise and across the load units with multiple products in them.
The door made of transparent polystyrele, allows you to easily identify the product and protects the material from dust. It can be opened to zip on the front of the container and, when inserted increases the load capacity of the container itself. Wolf-mouthed containers are available with a different size label holder, from small to large. The label holder allows the subdivision of the material by type and its immediate identification.
The modular nature of the extractable boxes makes the storage of minute goods and small tools that can be moved at speed following the operator and facilitating their work.