Kronos space-saving plastic containers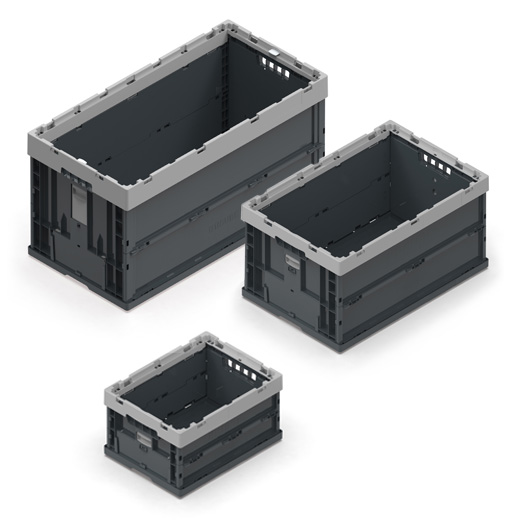 KRONOS foldable boxes have been designed and manufactured to significantly reduce the overall space occupied when not in use and during transport of empties. Their volume reduction of up to 75% therefore leads to high savings in storage and transport costs. KRONOS foldable boxes are equipped with a sturdy stacking edge and ribbed outer walls at the highest stress points: these structural features give the boxes extra durability over time.
Lightweight and manageable, they adapt perfectly to normalised pallets. Their flat bottoms allow use on all types of roller beds, thus giving great flexibility also in internal handling. The short sides are supplied with handy label holders and comfort handles for easy grip; the handles can be closed with the use of special casings.
Features of space-saving plastic containers
The space-saving plastic containers are specifically engineered to maximize storage capacity while minimizing the required floor space. These containers are designed using high-quality plastic materials that ensure durability and longevity. They come in various sizes and configurations to suit different storage needs.
The lids of these containers are stackable, allowing you to efficiently utilize vertical space in your warehouse or industrial facility. Additionally, many of these containers are equipped with ergonomic handles, making them easy to handle and transport.
Applications of space-saving plastic containers
Warehouses: These containers are widely used in warehouses to store a variety of goods, including small parts, tools, and components. Their stackable design allows for efficient utilization of warehouse space.
Manufacturing Facilities: Contenitori industriali in plastica salvaspazio are commonly used in manufacturing facilities to store raw materials, finished products, and supplies. They facilitate organized inventory management and quick access to necessary items.
Retail Stores: Retail businesses can benefit from these containers by using them to store merchandise, optimizing shelf space, and ensuring easy restocking.